When considering an interior design project, it is necessary to take into account the purpose for which it will be used. As far as offices are concerned, the interior design will depend on factors such as lighting, available surface, personnel and budget to carry out the work.
If you need an interior design project for your office, you have come to the right place. At Ferruz Studio we have everything you need.
Why does Ferruz Studio's office interior design studio stand out?
Offices are the second space in which we spend more time during the day and the first if we take into account that at home we spend more time resting than consciously. It is for this reason that it is a prerequisite that they are comfortable and go according to the values of the company and its motivations.
At Ferruz Studio it is clear to us that the interior design of workspaces is becoming more and more important, as it has been proven that it influences the productivity of workers. In order to get the decoration of your business right, you must take into account the most important aspects and the most common elements.
The best way to get it right with the interior design of the company is to make an analysis of the functional needs of the sector to which your business belongs, of each department and of your staff in general.
Trust our team of interior designers
We have a large team of professional interior designers specialized in retail, who have a long experience and trajectory and, consequently, respond to the needs of each and every one of our clients. 
Together, we will work hand in hand to make your dreams come true. To achieve this, we will take charge of developing your project following these phases:
Strategic definition of the design

: in this first contact, we will define the aesthetic, functional and technological requirements.

Space planning:

as the name suggests, the next stage consists of developing a design that is functional and takes into account the number of people, zoning and traffic flows.

Concept design

: in this phase we will focus on inspiration, i.e. everything that affects the project in terms of appearance (including finishes, lighting and colours).

Detailed, fast and flexible design: finally, the creation of plans, estimates and construction specifications will be carried out.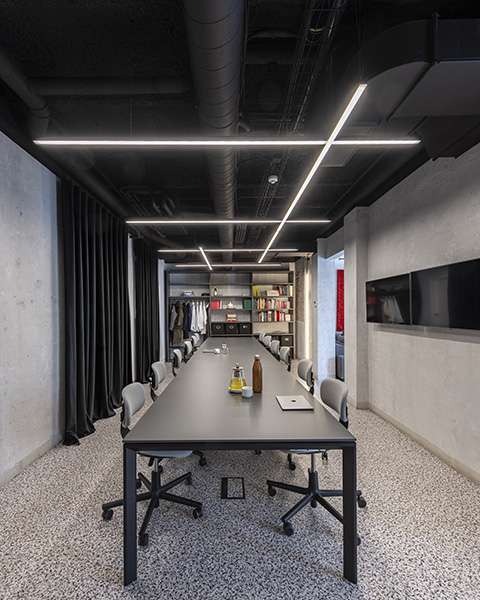 Relevant aspects of office interior design
Ornamentation and colors
The ornamentation and tonality of the office is key in terms of interior design, not only at an aesthetic level, since it is the greatest representation of the company and also influences the mood of the workers and their productivity. Depending on the style of the office, one type of color or another will fit better, since each tone will emphasize one image or another.
Temperature and lighting
The aspects that will most condition the comfort of employees are temperature and lighting. It is for this reason that you must keep in mind to make a good thermal insulation and install heating, air conditioning, ventilation and humidity regulators.
As far as lighting is concerned, it is advisable to use as much natural light as possible, but it should always be supported with a good lighting system for those hours of less light or for those offices that do not have large windows.
Ferruz is the interior design studio to carry out the design of your office.
The interior design of the office not only serves to create a beautiful space, is the main incentive for workers to feel comfortable and can carry out their functions and tasks. If you are planning to adapt your new office to the values and needs of your company, move or make a reform you should count on the advice of experts in the sector as Ferruz. We have been working for more than 40 years in different types of projects and offering the best solutions to our clients.
Currently all offices prioritize the welfare of their staff as it is the best way to generate a good working environment. Ask for advice on our website and get the perfect design for your business.